Breastfeeding
last authored: Oct 2009, David LaPierre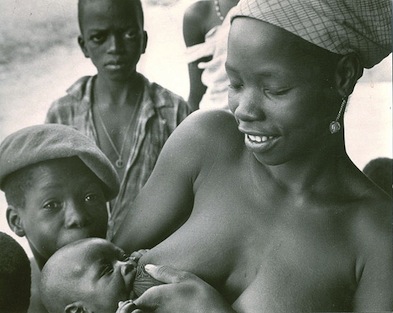 Breastfeeding mother, Sierra Lione, 1960s
courtesy of John Atherton
What is breast milk?
Breast milk composition is species-specific.
Colostrum
Colostrum is the first milk present for the first~3 days. It is thick and yellowish due to beta carotene. Volume is 2-20 ml. It has a high protein, low fat content.
High ash content, higher sodium, chloride, magnesium, protein, fat-soluble vitamins, immunoglobulins, mononuclear cells.
Lower potassium, calcium, lactose, glucose, urea, and fats.
Transitional milk
Colostrum is progressively mixed with newly produced milk during days 7-14.
Mature breast milk
Water is the biggest constituent. It is a complex collection of lipids and fatty acids - over 160 of them. These fats provide 50% of caloric intake, provide EFAs, help with absorption of fatty acids and fat-soluble vitamins, and provide cholesterol.
Proteins make up ~0.9%, including casein....
Immunoglobulins...
Iron and zinc is more efficiently absorbed.
Enzymes aid in absorption and preventing infection.
Supplementation
Breastfeeding needs o be supplemented with:
vitamin K
vitamin D 400 IU/d
fluoride
iron
Benefits of breastfeeding
Enhanced maternal-infant bonding
Economical and convenient
Easily digested, with lower renal solute load
More rapid uterine involution
Decreased risk of necrotizing enterocolitis
protects against SIDS
reduces risks of IDDM
Risks of Formula Feeding
inadequate micro-nutrients and essential fatty acids
risk of contaminated formulations and water
decreased neurodevelopment and lower IQ
higher incidence of allergic disorders
higher overall morbidity and mortality
Learning to Breastfeed
coming soon
Difficulties Breastfeeding
Mastitis is not a contraindication for breastfeeding from that breast.
Babies initially latch first, then decide to take a break.
Give parents permission to mix with formula first.
The stress of meeting expectations can be very difficult.
Breast feeding jaundice: first 1-2 weeks due to a lack of adequate feeding and dehydration
Signs of inadequate breastfeeding include:
<6 wet diapers daily after first week
very sleepy or lethargic infants
<7 feeds per day
weight loss >10% birth weight
jaundice
Contraindications
maternal chemotherapy or radiotherapy
HIV/AIDS
active, untreated TB
local varicella lesions
increased alcohol/drug use
relative contraindicated medications: bromocriptine, chloramphenicol, high dose diazepam, ergots, gold, metronidazole, tetracycline, lithium, cyclophosphamide
Resources and References